Leather Journal: A sign of Quality, Design, and Craftsmanship
Memories are forever, and what better way to remember memories than writing them down in a journal?

Yes, while a picture can say a thousand words, a thousand written words give a much better meaning to any picture!

Our personalized, elegant handmade leather journals help you create those unforgettable memories. We make all our leather journals using the absolute finest leather available.

Artists, professionals, writers, college students, homemakers, and practically anyone & everyone looking for something novel to pen their notes down like our journals.

We assure you there's something that will fit your handbag, suitcase, or pocket. So you will always have something stylish to pen your thoughts down at the spur of the moment.
Read More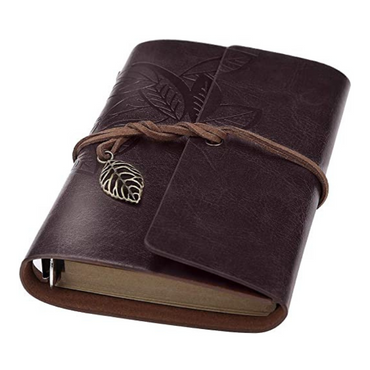 Premium Collections of Journals in Leather
We are proud of our premium collections of journals in an exotic range of leather designs and tanning. The quality of our journals surpasses most other journal types and varieties.

We believe that the memories you gain in life are worth collecting in much better and more classy journals than those made of low-quality leather.

Leatherjournal.us strives to offer only the best and premium quality journals. We do not support cheap leather products falling apart within a few months.

Our leather journals last much longer than an average lifetime. Using the best and highest quality leather, it's our way of ensuring that you and your future generations enjoy reading your journal.
Read More
Best Selling Leather Journal Nowadays
We believe the rightly crafted journal is perfect for anything and everything, like journaling, gifting, or making a remarkable statement.
What is a Leather Journal?
A leather journal is a notebook or journal with a faux or genuine leather cover. They can comprise lined or unlined papers to write notes, ideas, and inspiration and for drawing sketches. 
Some journals have both lined and unlined paper to let you unleash your maximum creativity.
Who can use a Leather Journal?
Anyone who has a habit of jotting things down can use leather journals. This includes travelers, business people, artists, school or collegegoers, and even homemakers. 
What to Look for In a Leather Journal?
There are a few things to look out for in a leather journal like:
The leather type like full grain, top grain, or stimulated leather
Paper types like recycled or handmade paper
If it has lined or unlined paper
Size depends on how you plan to carry and use it
Design like classic, embossed or vintage design
What do you write in a leather journal?
You can write anything and everything you want in mind in a leather journal like your:
Thoughts and ideas
Finances
Everyday routine
Fitness or food diary
Wishlist
Helpful household hints
Travel memories 
New business ideas